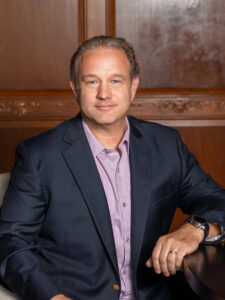 Justin co-founded Leo Brown Group in 2006 and now overseas all construction endeavors across our companies. He has vast working experience in nearly every position on and off the construction site. His broad range of construction understanding across multiple industries brings creative solutions to all our projects.
Prior to founding Leo Brown Group, he spent 15 years with his family's commercial construction company and ran concrete and carpentry crews from a young age. Justin developed the company's site work division and lead the company into the industrial market before forming Leo Brown Group with Tom Smith.
Justin is a graduate of Purdue University with a degree in Building Construction Management. Justin is an avid supporter of the Logansport Art Association and several Cass County youth athletics programs.